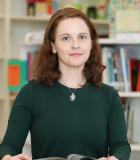 Ms Stacy Andell
Deputy Head, Dehong Beijing Kindergarten
Stacy Andell is from the United States. She is very erudite and knowledgeable with a Master in English Language and Literature/International Education/Library and Information Science. She is currently pursuing a doctorate in education from William Howard Taft University. Besides, she also obtained an international PGCE certificate and K-12 Administrative Credential.
Stacy has nearly 20 years of experience in teaching English language and acting as a principal to manage international schools in US/South Korea/Thailand/Vietnam/China. She worked as English Curriculum Coordinator in Beijing International Bilingual Academy and Principal in Ganeinu International School. Ganeinu International School applies one of the most popular and recognized pre-school curriculum systems in the world -- Montessori curriculum. During the period in Ganeinu, she developed a unique curriculum incorporating a range of national and international frameworks, including Montessori, PYP, and the American Common Core-which is best fit for pre-school children. Also, she developed language enrichment programs for a trilingual program in English, Chinese, and Hebrew, catering to a range of home and heritage languages. Besides fruitful academic achievement, Stacy implemented whole-school sustainability programs, increasing environmental awareness among students and faculty.
Stacy is an exceptionally hard-working and conscientious educator who also has excellent leadership ability. She is highly respected by staff and parents and has the student's best interest at heart and goes out of her way to assist them.
---