An Exceptional Preparation
Dehong students experience a bilingual, bicultural education built on the strengths of the Chinese National Curriculum (CNC) combined with an inquiry-based EML curriculum. The EML curriculum is based on a transdisciplinary structure. The curriculum themes allow students to explore central ideas and topics through an inquiry lens, whilst unlocking their own independence and creativity, as they work towards a carefully balanced range of learning outcomes. This approach to education, our Dehong Difference, engenders the creation of internationally-minded, forward-thinking students in our Middle School.
A Student's Story
Miao He joined Dehong in Grade 7 and her first experiences of a Dehong education were centered around the transdisciplinary theme of "identity". As she walked into her Global Perspectives lesson, she was ushered into an inquiry-based learning environment that explored historical changes in human populations around the world and the formation of different cultural identities in other countries. This intrigued her.
She moved onto her Applied Science lessons and again found herself studying 'Identity', but this time looking at the concept through Science and Engineering. She was taught how to consider a range of beliefs held by the scientific community and began to explore experimental design. Once again, she was intrigued and excited by the rest of her day in English, Arts in Motion, and PE.
As the year progressed, Miao He began to learn how to transfer knowledge and skills between subjects. She experienced a range of challenges, such as Market Fair activities, debates, and essay writing, all of which inspired her to learn and to inquire.
A Holistic Curriculum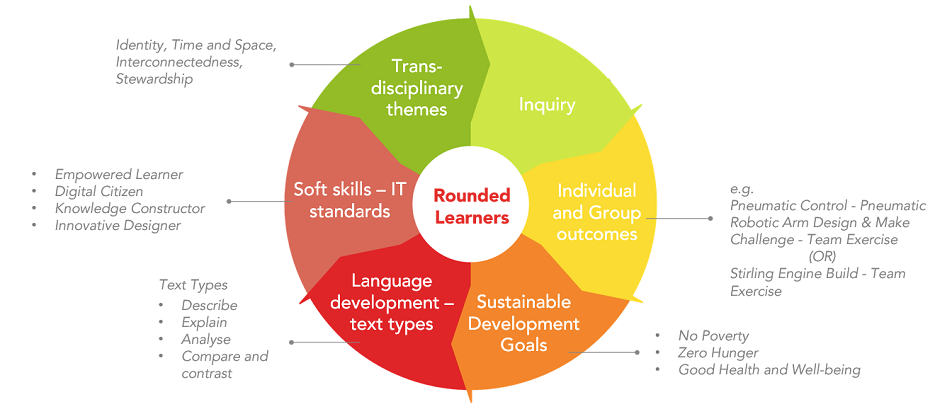 Key points
Dehong follows a bilingual, bilcultural curriculum.
The CML curriculumin built on the Chinese National Curriculum (CNC).
The EML curriculum is bespoke to Dehong and builds on the foundations of the CNC, whilst taking the very best of educational programmes around the world and combining them into one exciting curriculum.
Our curriculum is holistic and develops the whole child.
Dehong Story
The Dehong culture is based on Chinese values and the wellbeing of our community, framed by the principles of positive education. Behaviour expectations are designed to ensure that every student flourishes. Students, led by the Student Council and the head boy and girl, worked together to create Essential Agreements, setting out standards for behaviour. These agreements define who we are as a school, our collective commitment to fostering a positive culture of wellbeing through student agency.
This approach is based on learning conversations and coaching. The culture within the senior school is one of productive and focused learning and we have the highest expectations, creating an environment that allows our students to grow, make mistakes and learn.
A Student's Story
Feng Lu joined Dehong in G7, his first experiences of a Dehong education were positive and he really enjoyed his first few months at the school. He made a few mistakes early on, transitioning from one school to another required a little time to adapt. These mistakes continued, and Feng Lu found himself getting into trouble with his teachers and not completing his work. He was not sure how to work through this problem by himself.
His class teacher met with Feng Lu and his parents and talked about what was going wrong. They helped Feng Lu to think about what kind of student he wants to be and how he wants to present himself to the community. With support, Feng Lu was able to rebuild his relationships with his classmates and his teachers; his parents helped him to think about his behaviour at home as well.
Feng Lu is now thoroughly settled and happy at Dehong.