Dehong Shanghai International Chinese School has obtained accreditations by two US Authorities: AI (Accreditation International) and NCPSA (National Council for Private School Accreditation).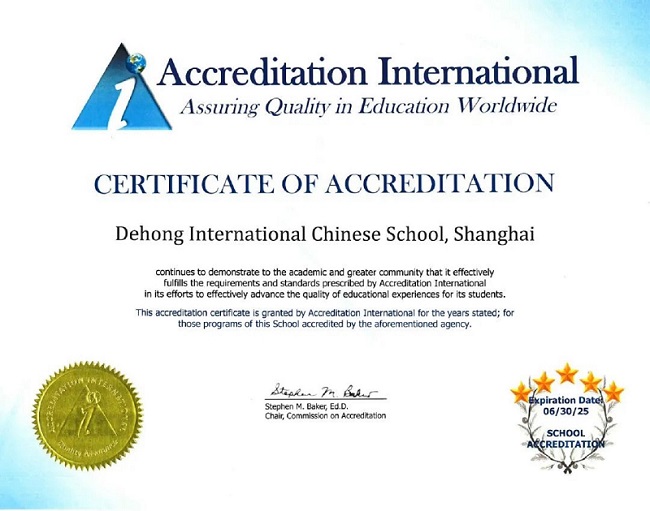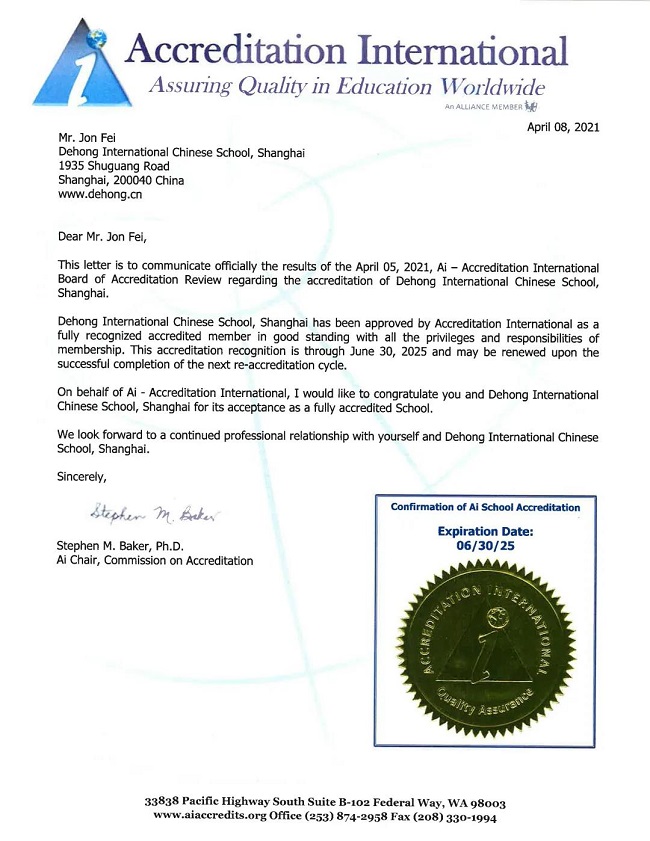 Founded in 2017, Dehong Shanghai International Chinese School carries on the academic traditions of Dulwich College in London and learns from the education experience of Dulwich International Group as well as other Dehong Schools in China, creating an independent and active study atmosphere for students. Within 4 years, we have achieved an academic performance that enables us to walk side by side with top international schools in Shanghai, China, and the very best independent colleges in the UK.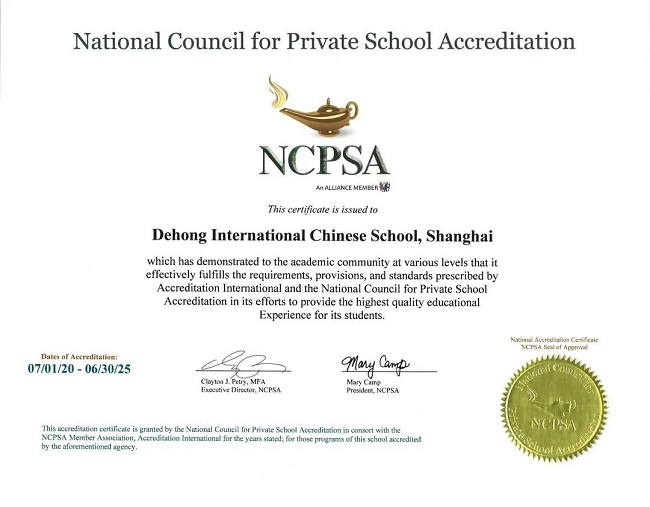 By obtaining the AI, NCPSA accreditations, we further demonstrate that our educational philosophy and teaching quality are internationally acknowledged and recognised. What is more, the accreditations have significant meaning for both our students and school:
For students, accreditation supports their university application in the USA. Accreditation is required for colleges and universities, but not all secondary schools are accredited, which means that an accredited international school will stand out among the many applicant schools. Because the accredited schools have a more complete and rigorous teaching system, their trans are more powerful proof of the students' learning ability and overall quality.
For schools, accreditation provides comprehensive quality assurance. Accredited schools meet a defined set of standards. These standards cover philosophy and vision, leadership, planning, educational program, assessment, student services, student life, student activities, information resources and technology use, finances, facilities, and health & safety. The standards examine schools in a holistic way, supplementing student testing data, to provide a more complete measure of a school's performance and chart a strategic course of continuous school improvement.
Accreditation International (AI) is a member of the National Council for Private School Accreditation (NCPSA). It is an alliance recognised and authorised by preschool, primary and secondary schools in the United States. Its main role is the qualifications and standards for private schools. Founded in 1993, the agency has 17 accredited associations and is one of the most authoritative private school accreditation organisations in the United States.