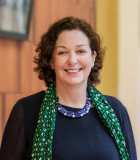 Ms Lesley Meyer
Chief Education Officer, EiM; Education Director, Dehong
Ms Lesley Meyer is originally from Scotland, UK, and is a very experienced international schoolteacher and Headteacher. She graduated from the University of Edinburgh with a degree in English and History and then completed a PGCE before taking up posts in schools in the UK, Germany, Belgium and Switzerland. Having taught A levels, the European Baccalaureate and the IB Diploma Programme Lesley considers herself privileged to have been able to build on the wide range of experience by teaching in Early Years and Elementary School. She believes that working with international students from age 3 to 18 prepared her well to take her UK headship qualification (NPQH) and to work as a Head of School.
During her career Lesley has worked for the UK government and the EU in recruitment and in policy groups, specialising in the areas of bilingual education, EAL, special needs and the integration of technology. She was a founding member of the International Task Force on Child protection and has delivered training to teachers in a number of schools. Lesley takes seriously her commitment to the international community and is a team leader for school accreditation for the Council for International Schools.
Lesley and her husband have two adult children, a bat ecologist and a medical doctor, both based in the UK and is looking forward to becoming a very active grandmother! In her spare time, Lesley follows her passion for education and runs a small educational NGO in Zambia where she supports the development of four schools and regularly leads workshops for teachers and school heads, sometimes on the banks of the river Zambezi!
---