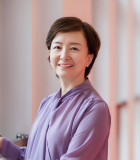 Ms Lily Liu
Founding Principal, Dehong Xi'an
Principal Lily is an educator full of passion, enthusiasm and courage. Lily was graduated from Shaanxi Normal University majored in English education. She had further education and training in the University of Reading in the United Kingdom and Columbia University in the United States, and she has finished the PhD. course of Education Management at Beijing Normal University and the Principal Education Courses in East China Normal University. Principals Liu was Vice-Chancellor of Xi'an Gaoxin No.1 High School.
Principal Lily's education career began in 1983. In March 1999, Lily officially joined Xi'an Gaoxin No.1 High School as the core force of the founder team. She has creatively constructed a scientific education and teaching system of work safety, moral education, parent school, mental health, and innovative education.
Lily encourages creating and practising, and she published monographs and articles in the field of education and teaching. At the same time, Lily has focused on social education, kindergarten education, primary school research for years, which promoted students' development and education quality for surrounding districts and suburb areas.
Thirty-six years of experience in education and school management have given Principal Lily a unique charm of gentleness and elegance. She believes that we should cultivate a new generation of China with a Chinese spirit and a worldwide vision, and we should be confident in being the guardians of Chinese traditions and culture, learning to ponder the opportunities and challenges which we are facing today, and paying more attention to the sustainability of the whole world.
---