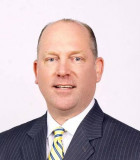 Mr Travis Washko
Head of International Programme, Dehong Xi'an
Over the past 22 years, Travis has lived and worked in Mainland China, splitting his time between Beijing, Shanghai, and now Xian.
Before joining Dehong, he was a Foreign Principal at a high school in one of the Top 50 Bilingual Schools in Mainland China, whose graduating students attended Top 50 US Universities with close to 50% of students attending Ivy League/equivalent schools worldwide.
In addition to his time as a Foreign Principal, Travis has held two regional leadership roles for two education groups working with over 30 schools, managing, and developing activities and student engagement across China.
Travis strongly believes that the key to academic achievement is through teacher training and continued professional growth and development. To that effort, he ran and implemented all regional Career Professional Development (CPD) Annual Conferences, with over 40 regional CPD conferences and close to 1000 teachers in attendance for both organizations. He also personally led curricular improvements as a seasoned Head of Department at various international schools while he was a teacher.
His professional philosophy is driven by an openness and atmosphere of "mutual respect" which aligns with the Dehong philosophy of a holistic education approach.
Travis has a Doctor of Education in Organizational Leadership Organizational Development (Qualitative Research) from Grand Canyon University.
---