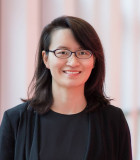 Ms Vicky Lu
Director of Academics, Dehong
Vicky Lu is the Education Director who oversees the academics across the Dehong Schools and language-related development across the Group. She joined Dehong in 2018 and supported the founding of two Dehong Schools. Previously, she acted in a whole-college leadership role in leading the Mandarin faculty at Dulwich College Shanghai Pudong and played a significant role in curriculum development and professional learning for teachers. Her previous career steps also included K-12 and tertiary education in Australia and the United States of America after working as a journalist.
Vicky is passionate about education in multicultural and intercultural contexts, especially linguistically and culturally responsive teaching and learning. She promotes the interconnectivity between language and cognition across disciplines to support a concept-driven approach to curriculum design. In her current role, Vicky supports teachers across the group in their professional learning of Content and Language Integrated Learning and translanguaging. She is also a firm believer in student agency and positive education and has worked collaboratively with other educators to create a progressive curriculum framework for student social and emotional development.
Vicky completed her undergraduate studies at Beijing Normal University, receiving double Bachelor's degrees in Chinese Language and Literature and English Language and Literature. Her graduate studies included a Master of Arts in East Asian Studies at the University of Wisconsin-Madison and a Master of Teaching at the University of Melbourne. Vicky also earned her Doctoral Degree at Johns Hopkins University, focusing on building international English-speaking teachers' intercultural teaching competence.
Vicky published journal articles in both Chinese and English and has presented at international academic conferences on topics such as literacy, biliteracy, curriculum, Chinese literature and comparative literature.
---