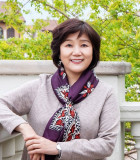 Ms April Zhou
Founding Principal, Dehong Beijing
Principal Zhou comes from a family of educators. Influenced by what she has heard and seen since childhood, she has become an educator with feelings and devoted herself to China's education career for more than 30 years. She graduated from Capital Normal University in Beijing with a bachelor's degree in Chinese language and literature.
Beijing No. 2 middle school, is the starting point of Principal Zhou's education career, from Chinese teacher, to headteacher of grade leader, from leading graduating class teaching, to be responsible for teacher training and management work, and make the school schedule, course arrangement, and set up the test specifications, these experiences make her be well prepared for vice principal of Beijing No. 2 middle school.
In 2005, Principal Zhou followed her daughter to Canada, where she completed her English language studies at Thompson River University (TRU) and received her continuing education certificate. In 2008, Principal Zhou returned to Beijing No. 2 middle school and joined the international department to lead the school curriculum, student management, teacher recruitment training, and the daily operation of the whole school. At the same time, she has built a good relationship with the sister schools of No. 2 middle school in the United States, promoting and stimulating the cultivation of students' innovative spirit and global vision.
Principal Zhou is a gentle and elegant woman with profound literary attainments. She advocates "lifelong learning" and puts it into practice. In her eyes, every student is equal and has unlimited potential. Principal Zhou, a grandmother, hopes to continue her education career. "I have been teaching all my life and this is the only thing I can do," she said, "May every child find their own self and become the best of themselves."
---