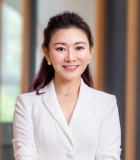 Ms CiCi Zhang
Director of Business Administration, Dehong Beijing
CiCi Zhang was born and raised in Beijing. During her high school years, she studied in the United States and received her bachelor's degree in Computer Science from Pace University in New York and her MBA from the Lubin Business School, majoring in marketing, finance and accounting. CiCi used to work at IBM's New York headquarters, where she focused on investment strategy and economic market analysis. In 2006, she was appointed by IBM headquarters to be the Financial Director of IBM China Beijing branch and engaged in enterprise management, marketing and international business development for many years.
In 2010, she was very fortunate to join Yew Chung International School of Beijing as the Head of Finance. The unique educational concept of International School deeply attracted her and thus started her career in education ever since. Meanwhile, she also participated in the preparatory work for the establishment of Yew Wah International Education School Beijing in YiZhuang campus. CiCi is also a member of the committee of the Council of International Schools, she was assigned by CIS to Malaysia International Schools in 2015 to conduct accreditation.
In order to pursue her dream and embody her value, she joined the Dehong Education Group in October 2018 as the Director of Business Administration as founding member of the school leadership team to establish Dehong Beijing School.
CiCi is a very enthusiastic, energetic, capable, efficient and excelsior person in all, the pursuit of excellence, promote service awareness, require all team members to understand the school business, and strive to build a high-efficiency, high-level administrative team. In accordance with Delong education's philosophy as 'students come first', she has committed to creating a safe and healthy campus environment to all our students and teachers with high-quality logistics support services.
---